Francis Aquino, whose company makes an app for meditation, has a most un-Zen commute: an eight-mile drive to Santa Monica that can take an hour and fifteen minutes each way in bumper-to-bumper Los Angeles traffic.
The 38-year-old office manager for Headspace Inc. is counting the days until he can instead ride a new $1.5 billion light rail line that opens May 20. It will connect Los Angeles with the ocean and adjacent parts of the city's west side for the first time since trolley cars to the beach were discontinued in 1953.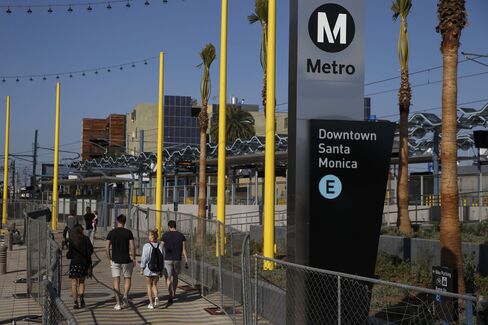 "You have so much free time and you're not stressed out," he said. "The one thing I'm really looking forward to is catching up on my reading."
The new route could be a important step in turning car-obsessed Angelenos into bus and train users. Right on its heels, municipal executives are pushing for a new half-cent sales tax and the extension of an existing levy that could raise $120 billion for transportation infrastructure over the next four decades. But the new line is opening as public transit ridership in the region is declining, leading some to say it's all a waste of money.
"This culture, I think is changing," said Phillip Washington, chief executive officer of the Los Angeles County Metropolitan Transportation Authority. "Because ridership has decreased slightly should not mean that we should stop building infrastructure."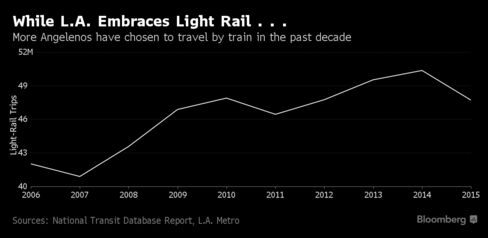 With ocean to the west and mountains to the north, most commuters to jobs in coastal Los Angeles converge on highways leading into some of the worst congestion in the U.S. The 6.6 mile (10.6 kilometer) extension of the Expo Line light rail will offer faster transit through a corridor that includes media and entertainment companies in Culver City and Santa Monica's burgeoning "Silicon Beach."
Employers whose offices are walking distance to Expo line stations include Universal Music Group, energy drink Red Bull's U.S. offices, filmmaker Lions Gate Entertainment Corp., nonprofit research institution RAND Corp. and even TrueCar Inc., the online car-buying site.
Some companies, such Hulu LLC, the video-streaming service whose Santa Monica office is two blocks from an Expo stop, are embracing public transit. Hulu sponsors Santa Monica's bike-rental program, which put about 2,000 cycles near transit stops and other points of interest, a way to facilitate the critical "last mile" between a train station and the rider's destination. Red Bull and RAND defray all or part of their employees' transit fares. The benefit is key to helping attract and retain employees in one of California's priciest areas, said Eric Peltz, RAND's executive director of operations.
"I really feel like I'm wasting time in the car," said Jennie Marie Petrini, who has a four-hour daily commute between RAND headquarters in Santa Monica and her home northeast of downtown Los Angeles. "With the Expo, they have WiFi so I'll be able to spend that time working and be home in time to spend time with my family."